A DYNAMIC AND SPIRITED START 
OF THE BOARDING COMMUNITY LIFE AT WUIS
After a week of Boarding resumption our Primary and Secondary Dormitory Residents have settled well and promptly. Previously to the boarders return,our Team of Dorm Tutors participated in a very fruitful and interactive training where they had the opportunity to share good practices of their experiences with the advice of our school counselor. The staff inset was also an occasion to familiarise our Primary and Secondary colleagues with the latest school policies.  This will surely help us to support our boarders in their educational adventures.
Our Boarding Welcome Assembly unabled us to set the pace for this new  school year. The Boarding Evening Programme is now in full swing with the Primary and Secondary Evening Homework sessions.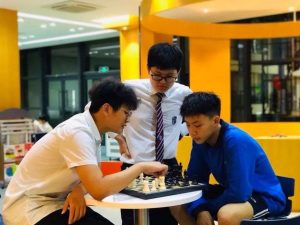 Our exclusive ECA+ Secondary Team Sports Training  Programme resumed with the highest standards with Boys and Girls Volley-Ball & Basket-Ball practice essions.  
We look forward to another great school year in the Boarding House
Cindy Gao & Philippe Prudhomme
Co-Heads of Boarding