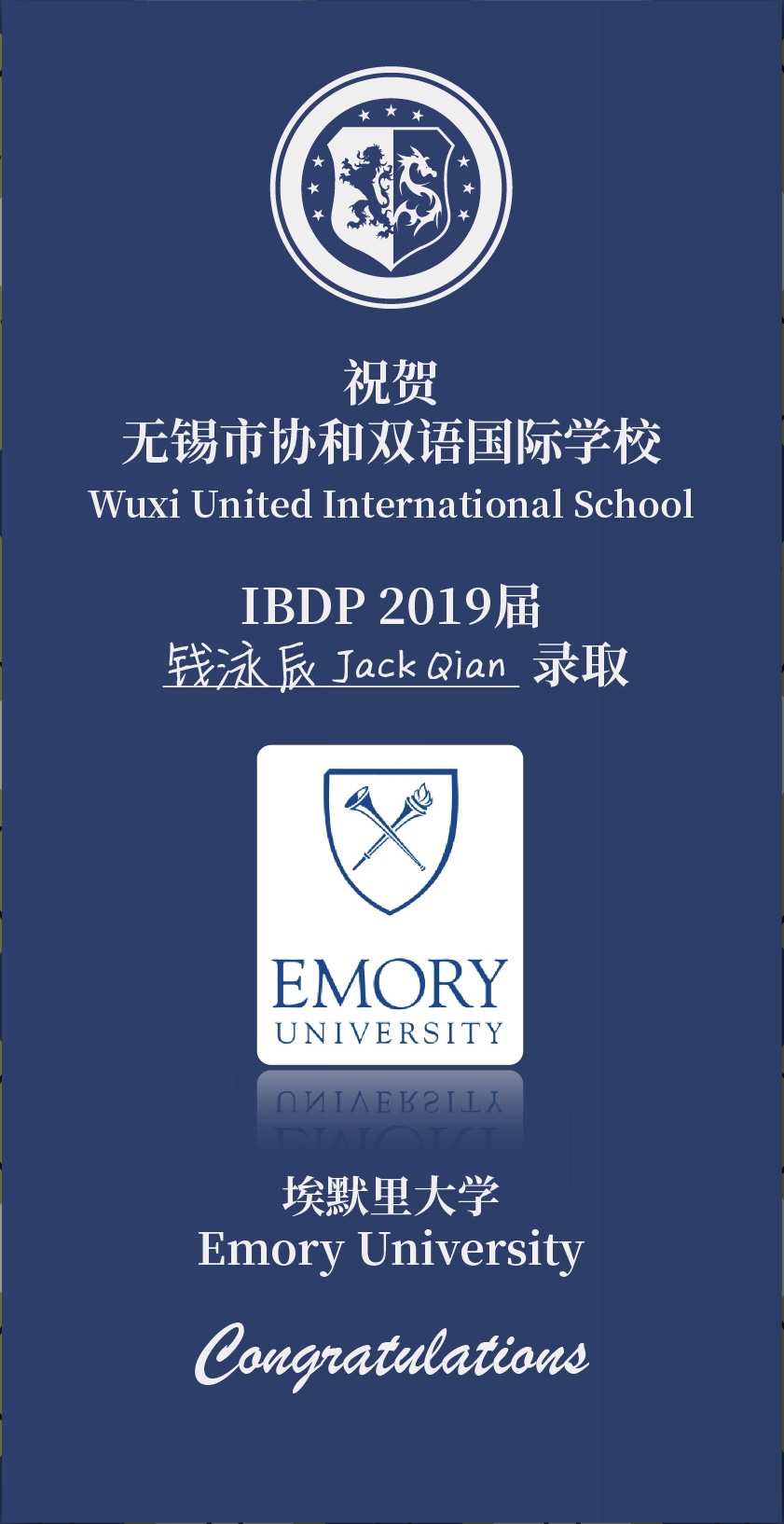 On the morning of December 13th, 2018, Jack Qian of our IBDP 2019 cohort received a long-awaited email. Emory University, his Early Decision dream school sent him a piece of exciting news.

Emory University, founded in 1836, is one of the top private research universities in the United States. It is one of the 25 "New Ivy League" universities in the United States, known as the "Southern Harvard". It is one of the representative universities of small-class education in the United States. It has produced 24 Rhodes Scholars who are known as the "Global Under graduate Nobel Prize". Its ranking in the 2019 edition of Best Colleges is National Universities, 21. Competition for admission to Emory's undergraduate program is fierce, with the admission rate of 18.5% in 2018. The ratio of teachers to students is as high as 1:7. Former President Carter of the United States is the honorary professor at the university, and he gives speeches and answers fresh men's questions in person every year.

Emory University is located in Atlanta, Georgia, the largest city in the south of the United States. Coca-Cola, an international business behemoth, has invested a large amount of capital to establish Emory's status as a world-class academic hall. The campus is covered with forest, and the buildings are all in the classical Italian style. Emory University is a typical research-oriented comprehensive university, but it combines the advantages of comprehensive university and college of arts and sciences; it pays attention to under graduate teaching, and sufficient research funds enable freshmen to start doing research intern ships. The school is not in downtown area, thus being safer and creating a quiet learning environment. Students can easily and quickly reach the city. Atlanta is also a very fun city where students can experience the wonderful extracurricular life and feel the vitality of the city, including sports events, museums, city events, music festivals, political events, various commemorative activities. Strong transportation networks make these explorations accessible. Emory's students and faculty have created an enthusiastic and enterprising community with rich traditions.
Jack Qian's offer is one of many excellent university admissions to our IB diploma students. We are looking forward to even more good offers.