The 3rd Annual Pioneer Curriculum Professional Development Day of Shanghai Xiehe Education Group was held in Wuxi United International School on the 15th September 2018. Chinese and international teachers from Hongqiao, Wanyuan, Pudong,Xiamen and Wuxi Campus of Xiehe education group along with teachers from 36 primary and secondary schools in Wuxi participated in the grand event.

Two keynote speakers, both experts in their fields, Yin Houqing and James Nottingham  presented talking on 'Outlook for K-12Education Reform in the New Era' and 'The Power of Feedback' respectively. Mr. Yin Houqing, Vice President of China Education Association. He discussed how students learn and how teachers teach in new Internet era .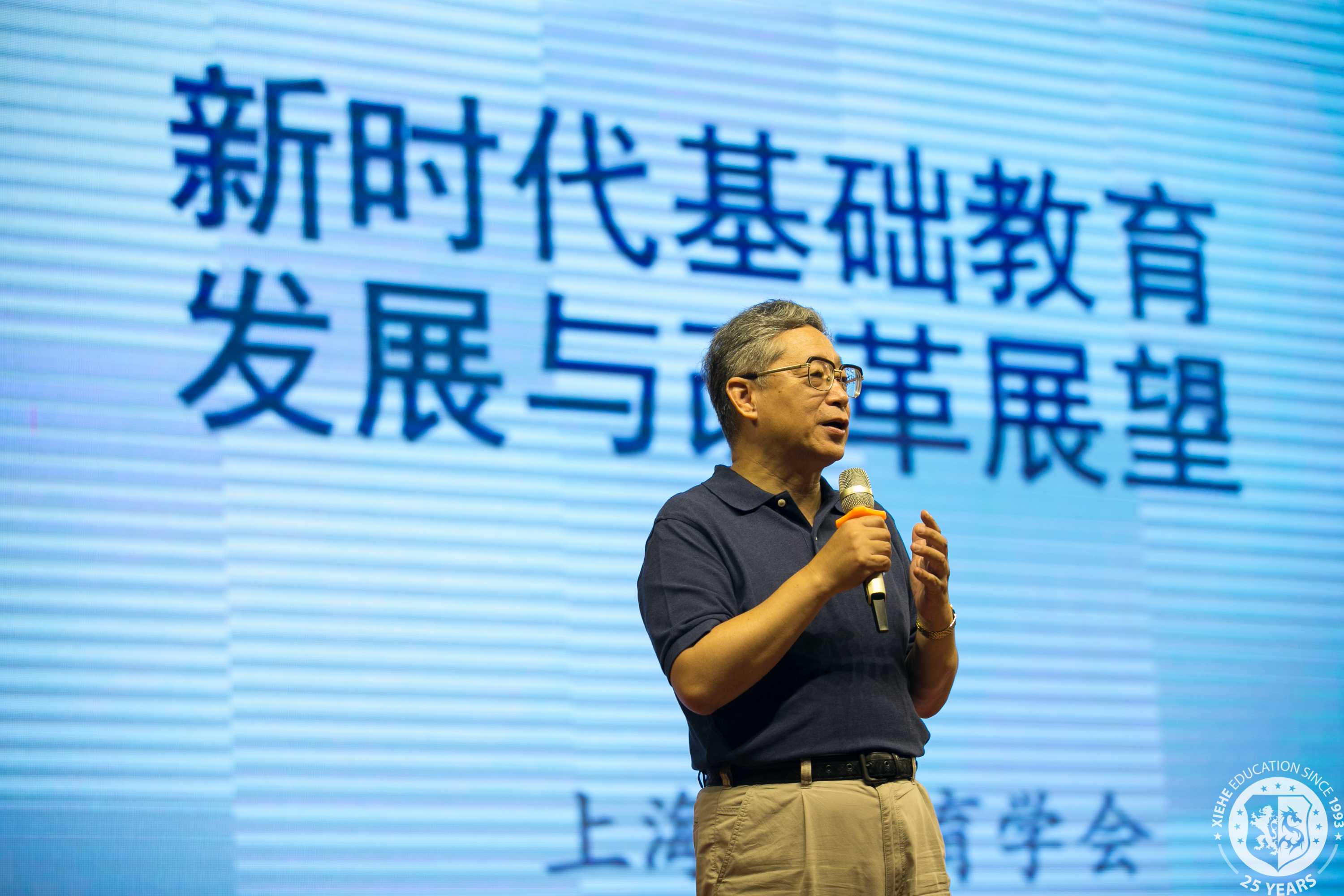 My presentation today is about feedback. How we could make feedback more useful for our students is one of the really important and powerful factors in student learning. But sometimes it is not very well used by the students. That is the students don't often know how to use feedback really well. To use that advice from their teachers, so today we looked at how you make the most of feedback.

This cross campus professional development hopefully can promote the application of our education philosophy "East meets West" in school and stimulate teachers' professional interests and innate power. In the afternoon, teachers did a lot of multiple and rational explorations on each subject. The workshops showed teachers' professional research and insights on front line teaching. We discussed a variety of topics: How to analyze picture books; How to add Chinese traditional culture in primary Chinese teaching; The environmental decoration of Mathematics activities; Mathematics games as an indispensable teaching form; English unit teaching design; Using explicit reading skills in the classroom; P4C in the EAL classroom, etc. Each workshop consists of group discussion and interesting Q&A sessions, by which all teachers can exchange ideas and experiences.
The Xiehe Pioneer Curriculum has been established for 9 yearsand and being used in 6 campuses. While focusing on fundamental subjects, much fusion of international curriculumin teaching styles and subject content helps develop students' reasoning ability, creative thinking and the ability of analyzing and using knowledge, which forms a series of school-based teaching textbook. Thanks to all the teachers from different campuses of Xiehe education group who have contributed to our unique school-based curriculum on the subjects of Chinese, Maths, English, P4C, PE, Music and Art.
Before finishing the meeting, Co―Directors of Curriculum and Teacher Development Center of Shanghai Xiehe Education Group, Mrs Fran and Qin qiu awarded Tutor certificates to teachers who have successfully hosted the various workshops.
Xiehe Education will continue leading our achievements into a global vision and promote who we are. During this progress, Xiehe Education will provide more diverse training opportunities for each teacher and each campus to make more communication happen and prepare more teachers to step on larger stages.
It is worth mentioning that today's activity has also received strong support from the Deputy Director of Wuxi City Education Bureau Ms Wu Xunru and Deputy Director of Xishan District Education Bureau Mr Wu Hongming. They came to school have meeting with Mr Yin Houqing, and gave high praise to Xiehe education. At the same time, Xiehe Education group general principal – Maxine Lu, although she was unable to be present because of other work, she gave us a kind greeting!