Grateful and Dream
/ / / / / / / / / / / / / / / / / / / / / /
— —The Tenth Birthday Growth Ceremony
On May 31st, the children, parents and teachers of Grade 3 gathered together to celebrate the 10-year-old growth ceremony of "Building Dreams and Voyages with Gratitude".
The beauty of Children's Day begins with wearing professional clothes and walking on the red carpet. The children looked professional and walked confidently on the red carpet. As they walked to the time mailbox they all dropped a letter to their future self. The letters are filled with blessings and concerns and are now sealed in the mailbox together with the letter. The children then entered the Grand Theater, where many moments from the rehearsals flashed upon the screen.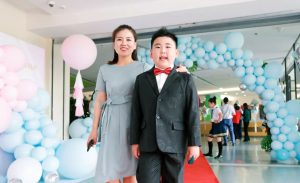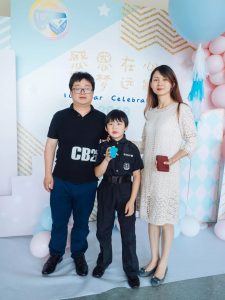 The children watched a blessing video called "Respect for Growing Up". During the film the children realized how grateful they are to the school and teachers, parents, classmates and friends over the past ten years. Xu Zihan, Fan Yiling, Dai Jiayan and Wang Yutong then shared their feelings one by one.

The children's growth is not only shown by improved speech but also by more mature actions. After reading the Chinese and English version of The Wizard of Oz, the third-grade children interpreted what growth is best with their own performances!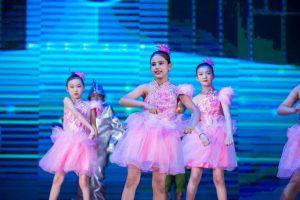 Growing up naturally depends on the care of parents. As a representative of the parents, Wu Ruoyu's mother used warm words to express her concern for the children. Pictures of the children from when they were young flashed upon the screen and gave everyone time to reflect upon the past.

The parents' performance was fantastic. All the parents were dancing in synchrony. Each parent moved gracefully like professional dancers. The smiles they had in their faces showed their love and dedication in bringing up wonderful children. The audience thoroughly enjoyed their performance.

The Grade 3 boys gave an excellent performance of "Out of the Way" to show the their growth into young men. The Grade 3 teacher's then gave their own dance performance. The show finished with a big round of applause.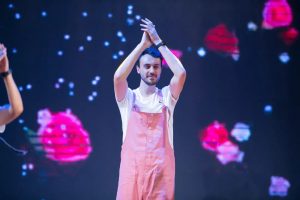 When the teachers finished their blessings, applause thundered from both the parents and children. Flower thanks accompanied by applause, teachers filled with smiling faces more beautiful than flowers. Finally, Mr. Edwards and Ms.Ella stepped on the stage and gave warm wishes to everyone.

The children's hearts were full of happiness, sweetness and visions of the future. Finally, the children came to the stage to collect cake and then shared it with their parents. 
Grateful and Dream !