In order to promote Chinese traditional culture and enrich the campus life of teachers and students, our Primary School launched an activity of "Cheerful Lantern Festival".

The dragons twisted their heads with the moves of hydrangea and shook their bodies with the music of drums. Not to be outdone, the two lions danced with passion. In order to win the applause and cheers of the audience, "the dragon fights". The wonderful scene ignited the atmosphere of the event and became the most beautiful scenery.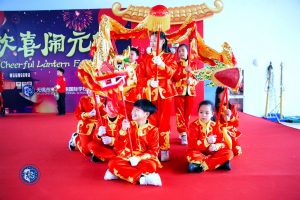 Once a year, the children's favorite "guessing riddles" event was coming. Faced with a fascinating riddle, the children were full of enthusiasm, some were in groups and tried their best to guess the riddles. Some thought deeply to guess the riddle; others unraveled one riddle after another, And they were all confident to guess the riddles.

The stage was very lively, and the students were even more exciting! Listen, the children in the first and second grades have brought us poetry readings with rhythmic beauty and melody, the poems were short but full of vigor, and this was the best blessing.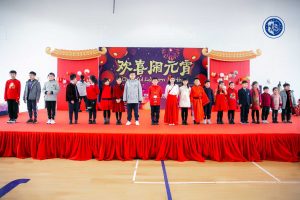 The "most beautiful lanterns" selected by each class were unique in design. They were wonderful expressions of children's imagination and creativity. The expat teachers were very happy to accept this "Chinese gift".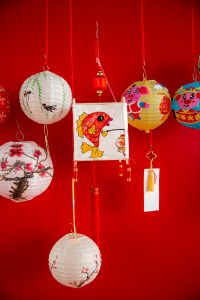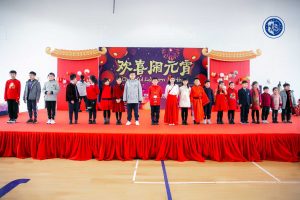 "The riddle king" smiles confidently, as if telling us, I would definitely win the crown in next year's Lantern Festival!

With a bowl of sweet Lantern Festival, a round of bright moon, a warm blessing, a festive celebration, a heartfelt expression, a silent touch, all the teachers and students of Wuxi United International School wish you a happy Lantern Festival!
伴随着阵阵锣鼓声,一条条巨龙飞腾跳跃,正跟着绣球做着各种有趣的动作呢!它们一会儿调皮地扭扭头,一会儿灵活地摇摇身子,好不可爱。跟在后面的两头狮子也不甘示弱,为了赢得观众的掌声与喝彩,"龙争虎斗"了起来。精彩的场面点燃了活动热情的气氛,成为了最亮丽的风景。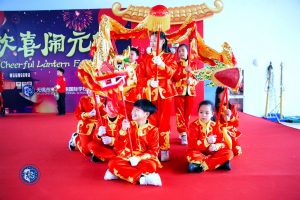 一年一度,孩子们最喜欢的"猜灯谜"活动如约而至。面对一条条妙趣横生的灯谜,孩子们兴致盎然,有的三五成群,结伴猜谜;有的冥思苦想,喃喃自语;还有的解开了一个又一个灯谜,对拿下"灯谜王"可是胸有成竹呢!

台下热火朝天,台上更是精彩纷呈!听,一二年级的小朋友们给我们带来了富有节奏美与音韵美的诗歌朗诵,简短而朝气蓬勃,值此佳节,是最美好的祝福。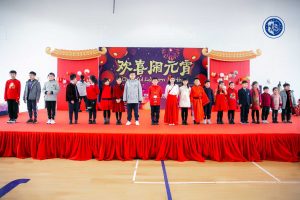 每个班级评选出的"最美花灯"造型独特,设计新颖,是孩子们想象力与创造力的美好表现,外教老师们更是十分欣喜地收下了这份"中国礼物"。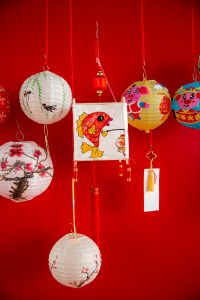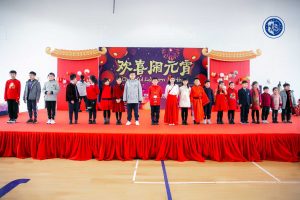 "灯谜王"自信的笑脸,仿佛在告诉我们,下一年的元宵节我一定还能拿下这顶桂冠!

一碗香甜的元宵,一轮圆圆的明月,一份温馨的祝福,一片增色的喜庆,一心真情的展现,一种无声的感动,无锡协和双语国际学校
伴随着阵阵锣鼓声,一条条巨龙飞腾跳跃,正跟着绣球做着各种有趣的动作呢!它们一会儿调皮地扭扭头,一会儿灵活地摇摇身子,好不可爱。跟在后面的两头狮子也不甘示弱,为了赢得观众的掌声与喝彩,"龙争虎斗"了起来。精彩的场面点燃了活动热情的气氛,成为了最亮丽的风景。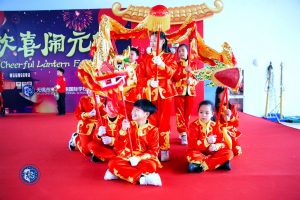 一年一度,孩子们最喜欢的"猜灯谜"活动如约而至。面对一条条妙趣横生的灯谜,孩子们兴致盎然,有的三五成群,结伴猜谜;有的冥思苦想,喃喃自语;还有的解开了一个又一个灯谜,对拿下"灯谜王"可是胸有成竹呢!

台下热火朝天,台上更是精彩纷呈!听,一二年级的小朋友们给我们带来了富有节奏美与音韵美的诗歌朗诵,简短而朝气蓬勃,值此佳节,是最美好的祝福。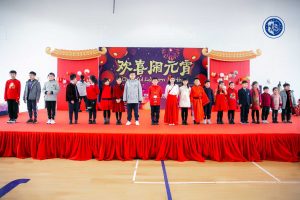 每个班级评选出的"最美花灯"造型独特,设计新颖,是孩子们想象力与创造力的美好表现,外教老师们更是十分欣喜地收下了这份"中国礼物"。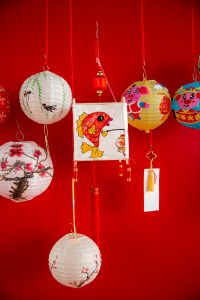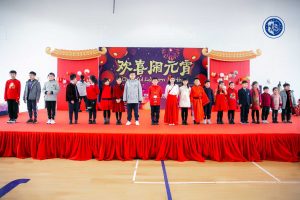 "灯谜王"自信的笑脸,仿佛在告诉我们,下一年的元宵节我一定还能拿下这顶桂冠!

一碗香甜的元宵,一轮圆圆的明月,一份温馨的祝福,一片增色的喜庆,一心真情的展现,一种无声的感动,无锡协和双语国际学校