Falling leaves dance in the air,that is the tree who is giving thanks to the earth for her nourishment.Churning waves sing under the sea,it is the waves praising the sea for her feeding. With a grateful heart, we can enjoy the happiness of life and grow up in the sunshine of love. On November 28th of 2018, we were excited to welcome The third Poetry Reading
of WUIS. Expressing and feeling great thanks everywhere in this thanksgiving month, we also get together to experience the love,as well as feeling in the poem.

At the very beginning of the competition,our children are cheering the competition by dancing. How lovey they are!

Altogether there are eight classes taking part in this competition. Everyone around us were really moved by their extraordinary emotion, their perfect performance, as well as their elegant and beautiful reading.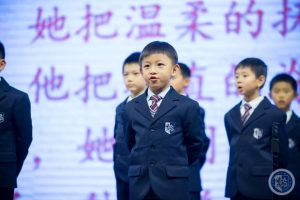 How could reading be if there is no music between those? Lingze Wang, from P2B, brings us a solo 'Minute No.2'. How amazing and wonderful the music and the performance is! How we are moved from the music like the true love our dear parents giving us through all our life.

We also scheduled some activities involved parents participation. One of that is called 'identify someone by the sound', which is actively participated by all parents and children.

The most exciting moment is coming in the end. Who are those classes getting the awards. Maybe someone is sad by without getting that. Anyway, it doesn't really matter. Don't always try to be the best one, but the better version than before. However, we still need to give our cheerfulness to those classes as follows.'The Best Stage Performance' to P1B and P2B, 'The Best Creativity Award' to P1D and P2A. 'The Best Performance' for P1C and P2C, 'The Best Reading Class' is P1A and P2D. Our children ourselves harvest more from our Poetry Reading itself than the award giving to us. We will continue to create more opportunities at WUIS for our children to show their talents!

Those who are always grateful are the happiest, and those who are always grateful are the sweetest. Let us be grateful and live a life with love! Look forward to gather again in the coming year.