In the past several weeks, the committee of WUIX Micro Biz Competition experienced crazy-busy preparation. The Chair, Black Chen of Grade 11 and other members answered hundreds of questions from students of all grades about the very first business competition event in school.
 
The competition took place on November 15th and 16th. Because it was the mid-term holiday, students were actually delighted for the long weekend. Instead of spending time with family for leisure, 97 students chose to stay in school to participate and enjoy running companies.

The school Principal Ms. Lin, Vice principal Mr. Zhou and Ms. Holmes welcomed and applauded for everyone's enthusiasm in enriching their extra-curricular experience and team-work spirit.

The Micro Biz Committee worked closely with their supervisor Ms. Cao and the Co-Head of Boarding house Mr. Prudhomme to meet high expectations. Black Chen also worked very hard on food and beverage arrangement with the school Admin department to ensure basic needs of all participants.

Participants achieved communication and management skills throughout the running of their virtual companies.19 teams of four or five members worked as CEOs, Investment Managers, Marketing Managers and Product managers to give presentations, attract investment, display production and marketing plans.

After fierce competition of 4 fiscal years, we proudly awarded the following winning individuals and companies.

Champion the company:Sunny李欣昊/ Ryo Shudo /Jason Jung/Yuna Park/Victor 印浩瀛

Second the company:Tony陈阳/Jason黄源/Mino彭宇轩/Gary周前程

Third the company:James张鹏翼/Ken李天翔/Nicholas耿杰洋

Best CEO:Rocky任嘉辰 /Will高湛

Best Investment Managers:Ken李天翔 Selina顾瑜欣

Bset Product Managers:Dane高嘉琳 Peter刘一凡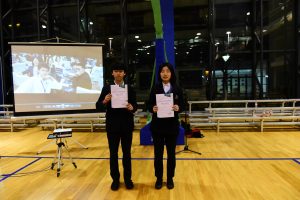 Best Marketing Managers:Peter潘乐天 Daisy华一玮

Most Promising Team:Claire沈倩瑶/Dane高嘉琳/Peter潘乐天/Ricky李嘉祺/Allen章一麟

Most Popular Team:Shally葛淳/Grace洪知艺/Betty沈天颖/Yvonne朱芳怡